Massive Abundance – Don't Miss It!
North American Title Company
presents
"Massive Abundance"
Christopher Stafford and Deborah Jenkins, authors of the book Massive Abundance will share their fifty years of experience in real estate sales and training to explain how to be unbelievably successful!
What is "MA"? It is a feeling, an experience, a vision. It is an outcome.
– It is working $3,000,000 deals rather than the $300,000 deals.
– It is working fewer hours while getting better results
– It is improving the quality of your leads and contacts
– It is making more money and getting what you want
– It is about igniting the passion in all you do
– It is about reaching your highest level of potential in a changing market
See why top motivational giants like Brian Tracy strongly endorse us! JOIN US!
Christopher Stafford is a consistent top producer year after year, disciplined in his business, has over 40+ listings and is thriving in a down market! He is the embodiment of "Massive Abundance!"
– Anita Head, President of Paragon Real Estate Group, San Francisco
There will also be a short discussion on Title and Escrow
When: Thursday, November 6th
10:30 am – 12:00 Noon
Where: Fort Mason
Building C, Room 362
Speakers: Christopher Stafford
Deborah Jenkins
Authors of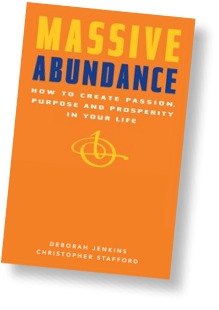 SEATING IS LIMITED. PLEASE RSVP!
More MASSIVE ABUNDANCE information can be found at
Categories: Massive Abundance Uncategorized