December Is The Time To Buy!
This chart below reminds us that the balance of power between buyers and sellers (especially of listings that came on in October or earlier) shifts during the holiday season, and the SP-OP drops dramatically for sales negotiated during that period.
The SP-OP for those listings that had already had one or more price reductions (not shown on this chart) drops even further: In December 2013 and January 2014, the SP-OP for price-reduced listings dropped to 88 – 91%- and the percentage of total sales that occurred on price-reduced listing increased from the rest of the year too.
This is a good period to negotiate better deals for those buyers who stay in the game, take second looks at listings with lengthening days-on-market, back on markets, and consider listings that have been withdrawn for the holidays.
Of the 476 currently Active listings, 228 have been on the market for 48 days or longer: you just know that the sellers and listing agents are getting worried. In the last 3 weeks, another 94 listings have expired or been withdrawn from the market – and presumably, those sellers still want to sell as well.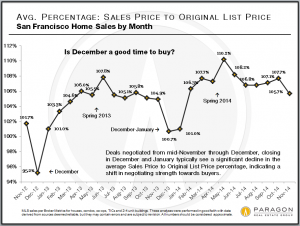 Tags: buying san francisco real estate Christopher Stafford and Terry Wright December is the time to buy
Categories: Market Updates