Paragon Real Estate is Kicking Butt in San Francisco Real Estate!
The beginning of the year is typically the slowest period for closed sales, since much of it reflects December activity. Comparing our 2014 YTD sales through February 19th with our sales in the same period in 2013:
For the residential and commercial brokerages combined, our sales went from $85.5m to $179.3m, which equals a year over year increase of 109%.
For just the commercial brokerage, sales went from $14m last year to $62.8m this year, an incredible 350% increase.
Year over year, our total sales have gone up about $94m, of which $49m was generated at commercial and $45m generated by our residential agents.
YTD in MLS-only dollar-volume sales, our Van Ness office is the 3rd highest producing office in the city after TRI and Sotheby's.
For MLS unit sales, Van Ness is the #1 office in the city. Van Ness also has the greatest number of producing agents year to date: 51 producing agents, with second place going to PU's Letterman office with 45, and third place to Sotheby's with 35.
YTD unit sales volume by OFFICE: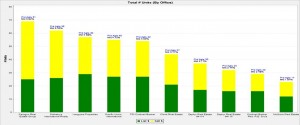 Tags: Chris Stafford Christopher Stafford Christopher Stafford and Terry Wright San Francisco luxury real estate
Categories: Uncategorized