New Case-Shiller: Another Big Jump in SF Bay Area Home Prices
The new March Case-Shiller Home Price Index for the Bay Area counties of SF, Marin, San Mateo, Alameda and Contra Costa, released recently, reflect another overheated spring market. All home price tiers saw significant spikes, but the high-price-tier in particular saw a big jump. Since the March Index is a 3-month rolling average and the market has only become more frenzied as spring has progressed, we believe the April and May Index reports will almost certainly show further increases.
For the past 4 years, the spring selling seasons have been the major drivers of home price appreciation: huge buyer demand has met desperately inadequate inventory leading to feverish, competitive bidding.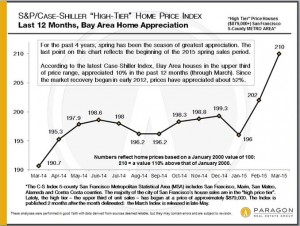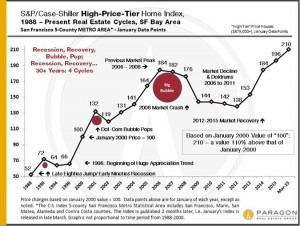 Tags: buying san francisco real estate Case-Shiller Index Christopher Stafford and Terry Wright Prices of San Francisco real estate
Categories: Uncategorized